Influx of Muslims Increases Granada's Population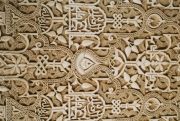 A steady influx of Muslims from the north increases Granada's population. Granada enjoys a vibrant economy due to silk and agricultural products. The Nasrid rulers begin actively expanding the Alhambra palace and gardens.
Granada retakes Gibraltar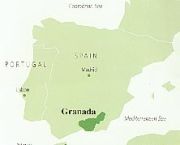 Granada retakes Gibraltar from the Castilians.
Nasrids Open a Madrasa In Granada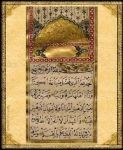 The Nasrids open a madrasa in Granada. Pedro, son of Alfonso XI, becomes King of Castile. The historian, Ibn al-Khatib, becomes wazir (minister) of Granada under Nasrid ruler Yusuf I and oversees the government for many decades. The famous traveler, Ibn Battuta, visits Granada the following year.
Alhambra Complex Becomes a Royal City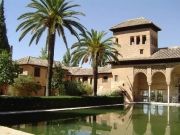 The Alhambra complex becomes a royal city with its own mosque, markets, neighborhoods, baths, gardens, and new sections, such as the Court of Lions. Poet Ibn Zamrak's verses, which praise the Nasrid dynasty and the city's beauty, adorn the palace walls.
King Muhammad V of Granada Sends Ibn Khaldun On a Diplomatic Mission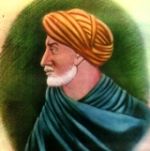 King Muhammad V of Granada sends historian Ibn Khaldun on a diplomatic mission to Pedro of Castile. Artisans from Granada redesign sections of the Alcazar palace in Seville for Pedro. Muhammad V supports the construction of a maristan (hospital) in Granada, where Arabic medicine flourishes.
Several Pogroms Against Jews Take Place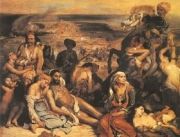 Several pogroms against Jews take place in Toledo, Barcelona, and other cities in the northern Christian kingdoms. King Muhammad V dies after ruling Granada for nearly 35 years.
Castilians Conquer Antequera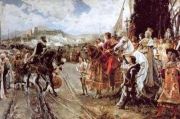 Following occasional skirmishes between Castile and Granada, the Castilians conquer the strategically important fortress town of Antequera. Berber volunteers from North Africa continue to arrive in Granada to help fight the Christians.
Ottoman Turks Take the City of Constantinople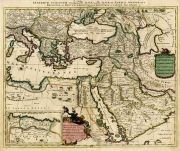 Ottoman Turks take the city of Constantinople, renaming it Istanbul. The Ottoman Empire's expansion and Byzantine Empire's demise create anxieties in Europe about Muslim power. Spanish scholars, such as Juan de Segovia, author polemical writings "countering the errors of Muhammad" and favoring the conquest of Granada.
Ice de Jebir Translates the Qur'an Into Castilian Spanish

Ice de Jebir of Segovia, the "Grand Mufti of the Moors of Castile," translates the Qur'an into Castilian Spanish. Several years later, he writes the "Breviario Sunni," a compendium of basic Islamic teachings and law for Mudejars, who could no longer communicate in Arabic.