Director:
Producers:
Featured Scholars:
Robert Gardner, Producer/Director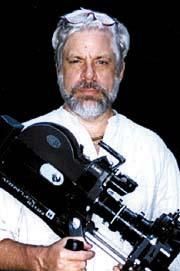 Over a career that spans 30 years, documentary film producer, director, and writer Robert Gardner has been nominated for an Academy Award and won three National Emmy Awards, four regional Emmys, and a duPont Columbia award for excellence in broadcast journalism from Columbia University. He has also earned honors from the American Association for the Advancement of Science, the Science Journalism Award for Television, and a variety of special awards.
His production company, Gardner Films, has produced for commercial and public television in the United States and internationally for 17 years. He is a member of the Director's Guild and the Writer's Guild of America, and has lectured on non-fiction television at Johns Hopkins University, Goucher College, The American Film Institute, The American University, and Wesleyan University.
Gardner's best work explores the way ordinary people react to extraordinary events — the triumph of personal courage in the face of war or poverty, the emergence of human values in times of crisis and change. His historical documentaries feature extensive period re-enactments and complex location production, utilizing robotic jib work, Steadicam, and extreme slow-motion. High production values are a hallmark.
Gardner's most recently broadcast films include The Barbarians, a four-hour world premiere and marquee special series for The History Channel about the Barbarian invasions of Europe. Supported by an extensive promotional effort, the series produced the second highest ratings in the history of The History Channel. Marketing elements included four-page advertising supplement in The New York Times, full-page ads in Time Magazine, The Washington Post, LA Times, USA Today, ESPN magazine, live radio promotions in 16 markets and three-dimensional billboards in Times Square and Sunset Blvd, Los Angeles.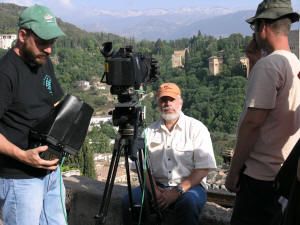 Gardner has also recently aired a number of films on PBS, including a one-hour documentary biography of Nobel Peace Prize Laureate Elie Wiesel, narrated by Academy Award-winner William Hurt; and Arab and Jew: Return to the Promised Land, a one-hour PBS documentary about the ongoing conflict between the Israelis and the Palestinians, with Pulitzer Prize-winning journalist, David K. Shipler. In 2002, PBS also aired Gardner's three-hour documentary film series called Islam: Empire of Faith. The series was shot on film in Tunisia, Egypt, Israel, Syria, Spain, Turkey, and Iran.
Other credits include two one-hour episodes of the Discovery Channel's top-rated forensic science series, The New Detectives and two one-hour episodes of The FBI Files, as well as an episode of the PBS premier science series NOVA, produced on location in Antarctica.
Other work includes: two one-hour episodes of Time Life Television's documentary series, Lost Civilizations, produced for NBC's entertainment division and broadcast on NBC in June 1995. The two episodes, Egypt: Quest for Immortality and Mesopotamia: Return to Eden, were shot on location in Egypt, Iraq, Israel, and Bahrain. The series won a Primetime Emmy in 1996, represented by Egypt: Quest for Immortality.
Gardner Films has also worked in Bolivia, Ethiopia, Egypt, Israel and France on a variety of assignments for National Geographic Television.
Featured Scholars
Cities of Light: The Rise and Fall of Islamic Spain is informed by a diverse group of world-class historians and scholars. These experts provide historical context, analysis, and critical perspective, to tell a story of vital importance and offer lessons for our contemporary world. (In order of appearance in the film.)
Imam Feisal Abdul Rauf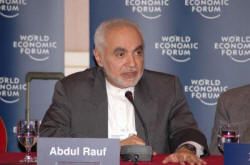 Feisal Abdul Rauf was born in Kuwait in 1948 into an Egyptian family steeped in religious scholarship. He was educated in England and Malaysia and has a degree in physics from Columbia University in New York.
He is founder and CEO of the American Society for Muslim Advancement (ASMA Society http://www.asmasociety.org ). He is also the Imam, or prayer leader, of Masjid Al-Farah, a mosque in New York City, which is located 12 blocks from Ground Zero. Imam Feisal has dedicated his life to building bridges between Muslims and the West. He is a leader in the effort to build religious pluralism and integrate Islam into modern society. He also designed the Córdoba Initiative, an interfaith plan for improving relations between Muslims, Europeans, and Americans through international dialogue and cooperation. He places special emphasis on finding a peaceful and just solution to the Israel-Palestine issue.
Imam Feisal speaks frequently at national and international conferences, and teaches about Islam, appearing frequently in the media. He is a member of the World Economic Forum Council of 100 Leaders (Islamic-West dialogue), Board of Trustees of the Islamic Center of New York, and advises the Interfaith Center of New York. His books include Islam: A Search for Meaning, Islam: A Sacred Law; and What's Right With Islam: A New Vision for Muslims and the West.
Lourdes Maria Alvarez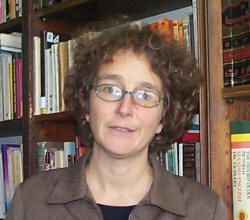 Dr. Lourdes Maria Alvarez is Director of the Center for Catalan Studies and Professor of Spanish at Catholic University in Washington, DC. The main focus of her research and scholarship is cultural and literary relations between Muslims, Christians, and Jews in Medieval Spain, and Hispano-Arabic poetry from the same time period. She is also interested in studying the influence of Islamic Spain in the contemporary Arab political and cultural imagination.
Before teaching at Catholic University, Prof. Alvarez taught at Yale University at the Yale Summer Language Institute in 1992. She received her B.A. from University of California at Berkeley, her M.A. from San Francisco State University, and her Ph.D. from Yale University. In addition to English, she is fluent in Spanish and Arabic. Prof. Alvarez is a CASA III fellow (Center for Arabic Studies Abroad) at the American University in Cairo, Egypt. And in 2000, she was awarded a Fulbright Senior Research Fellowship, which she used to complete research in Morocco. Prof. Alvarez has published numerous articles in her research field.
Brian Catlos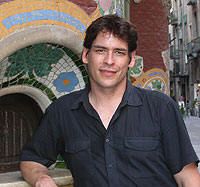 Brian Catlos is Associate Professor of History at the University of California, Santa Cruz, with a doctorate from the University of Toronto. He spent six years in Barcelona, Spain, where he was a research fellow at the Spanish National Research Council and held a postdoctoral fellowship from Boston University. He is co-winner of the 2005 John Edwin Fagg Prize from the American Historical Association for his book The Victors and the Vanquished: Christians and Muslims in Catalonia and Aragon, 1050-1300 (Cambridge University Press, 2004).
Professor Catlos is interested in studying ethnic and religious minorities in Medieval Europe, and in researching the interactions among Christians, Muslims, and Jews in Medieval Iberia, Europe and the Mediterranean region. He believes that his historical research helps improve understanding among religious groups in the world today, by showing that seemingly deep conflicts among religious groups are usually based on issues other than religion. "Ethnicity and religion becomes the language with which we speak about our aims and politics, but I don't think it's what's actually behind them," Catlos says. "We have to critically analyze the present in the same way that we critically analyze the past." Catlos has published several books and numerous articles in his field.
Olivia Remie Constable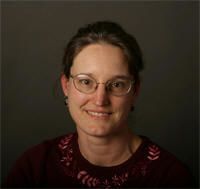 Olivia Remie Constable is Professor of History at the University of Notre Dame. She received her B.A. from Yale University in Near Eastern Languages and Literatures, and her Ph.D. from Princeton University in Near Eastern Studies. Professor Constable is interested in the economic, social, and urban history of the Medieval Mediterranean region, and especially in the contacts between Muslims, Christians, and Jews.
She has published several books, including: Trade and Traders in Islamic Spain: The Commercial Realignment of the Iberian Peninsula 900-1500 (Cambridge University Press, 1994), which won the John Nicholas Brown Prize from the Medieval Academy of America; Medieval Iberia: Readings from Christian, Muslim, and Jewish Sources (University of Pennsylvania Press, 1997); and Housing the Stranger in the Mediterranean World: Lodging, Trade, and Travel in Late Antiquity and the Middle Ages (Cambridge University Press, 2003); in addition to many articles. She has won several awards for excellence in teaching.
Professor Constable is currently working on a book about Muslims living in Europe during the 13th century, comparing different regions of Spain, France, and Italy. She says this period is important because it was a time when European attitudes towards Islam were affected by the crusades in the Near East and territorial conquests in Spain.
Ahmad S. Dallal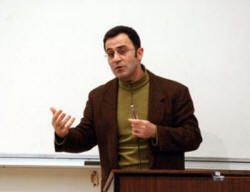 Ahmad Dallal is Associate Professor of Arabic and Islamic Studies and Chair of the Arabic and Islamic Studies Department at Georgetown University. He has taught at Stanford University, Yale University, and Smith College. He has a Ph.D. in Islamic Studies from Columbia University and a B.S. in Mechanical Engineering from the American University of Beirut.
His academic training and research cover the history of the disciplines of learning in Muslim societies, including both the exact and the traditional sciences, as well as early modern and modern Islamic thought and movements. He has written books and articles on the history of science, Islamic revivalist thought, and Islamic law, including An Islamic Response to Greek Astronomy: Kitab Ta'dil Hay'at al-Aflak of Sadr al-Shari'a (E.J. Brill, 1995). He is currently finishing a comparative study of 18th century Islamic reform, entitled Islam Without Europe: Traditions of Reform in Eighteenth Century Islamic Thought. He has also written and lectured about the September 11 attacks.
Mustapha Kamal

Dr. Mustapha Kamal is a native of Morocco, who received his Ph.D. from the University of California, Berkeley. He is Lecturer in Arabic in the Department of Classics and Mediterranean Studies at the University of Illinois, Chicago. His major focus is instruction in Arabic language and literature. He has lectured on Classical and Modern Arabic Literature, Arab Intellectual History, and the literature and history of Medieval Iberia.
He also lectures on Arabic literature and music from Spain and Morocco. He has published many translations of French and English works, including articles in Structuralism and Semiotics by Terence Hawks (1987); Towards a Semiotics of Authoritarian Discourse by Alain Goldschläger (1987), an anthology of the works of Jacques Lacan (1988); Mythologies by Roland Barthes, (1988); and writings from Umberto Eco, Noam Chomsky, Fernand Braudel, Jean Piaget, and Edward Said, among many others.
Chris Lowney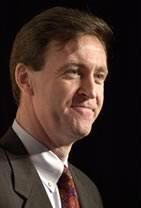 Chris Lowney is the author of A Vanished World: Medieval Spain's Golden Age of Enlightenment and Heroic Leadership: Best Practices from a 450-Year-Old Company that Changed the World (Loyola Press, 2003). He lives in New York, where he serves part-time as Special Assistant to the President of the Catholic Medical Mission Board (CMMB). The CMMB is the leading U.S.-based Catholic charity providing healthcare programs and services to people in need around the world.
Mr. Lowney was a Jesuit seminarian for seven years, teaching and studying at Jesuit institutions in the U.S. and Puerto Rico. He is a summa cum laude graduate of Fordham University, where he also received his M.A. He holds honorary Doctoral degrees from Marymount Manhattan University and from the University of Great Falls. He serves on the Board of Directors of Nativity Middle School and on the Board of Regents of St. Peter's College.
He has served as Managing Director of J.P. Morgan & Co., and held senior positions in New York, Tokyo, Singapore and London. He served on Morgan's Asia-Pacific, European, and Investment Banking Management Committees. Mr. Lowney lectures frequently on leadership, business ethics, and inter-religious dialogue in the U.S. and in the Philippines, Mexico, Indonesia, Colombia, and Spain.
David Nirenberg

David Nirenberg is Charlotte Bloomberg Professor of the Humanities at the Johns Hopkins University, where he teaches Medieval history. His research and writing focuses on Spain and the Mediterranean, and on social and cultural relations between Jews, Christians, and Muslims during that period.
He has published books and articles, such as Communities of Violence: Persecution of Minorities in the Middle Ages (Princeton University Press, 1996), on violence and co-existence of Muslim and Jewish minorities with the Christian majority in the 14th century Crown of Aragon. They also focus on French and Iberian Christian attitudes toward non-Christian minorities. He is currently working on two projects: one on the collapse of religious pluralism in Spain from the massacres of 1391 up to the beginning of the Inquisition; and the second on Medieval ideas about communication, exchange, and social relations — a cultural history of poison from Late Antiquity to the Renaissance.
Dede Fairchild Ruggles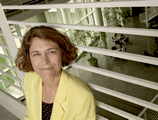 D. Fairchild Ruggles is Associate Professor at the University of Illinois, Urbana in its program on landscape history. She studied Islamic art and architecture and wrote her dissertation on the 10th century palace city outside of Córdoba, Madinat al-Zahra. Her first book was Gardens, Landscape, and Vision in the Palaces of Islamic Spain.
Prof. Ruggles is a pioneer in the field of landscape history. She is especially interested in the way palaces and gardens were intertwined in Al-Andalus, and what these gardens meant to the people who built them. She has also studied Arabic agricultural technology and scientific writings from the 10th through 14th centuries. She has taught architectural, art, landscape, and cultural history at Cornell University, Binghamton University, and Harvard. She, herself, gardens.
She has published essays and given lectures on the cultural conditions that gave rise to the art, architecture, and landscape of the Hispano-Islamic kingdom of Al-Andalus. Her research interests are the visual culture and built environment of the Islamic world. She is the author of Gardens, Landscape, and Vision in the Palaces of Islamic Spain (2000). She edited the volume Women, Patronage, and Self-Representation in Islamic Societies, and most recently, Islamic Gardens and Landscape (University of Pennsylvania Press, 2005).
Her current research interests extend her work to South Asia, especially the palace and tomb gardens of the Mughals and the Rajputs, appearing in the book, Islamic Landscape and the Built Environment, soon to be published. She also has written many articles on these subjects.
Raymond P. Scheindlin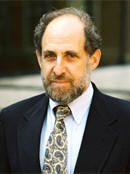 Raymond P. Scheindlin received a B.A. in Oriental Studies from the University of Pennsylvania, a Masters of Hebrew Letters and rabbinic ordination from International Theological Seminary, and a Ph.D. from Columbia University. He was a Guggenheim Fellow and served for three years as part-time Rabbi of the Kane Street Synagogue in Brooklyn.
Dr. Scheindlin is Professor of Medieval Hebrew Literature at the Jewish Theological Seminary and director of its Shalom Spiegel Institute of Medieval Hebrew Poetry. He teaches and conducts research on the interactions between Hebrew and Arabic cultures in Spain, especially in the poetry of the two traditions. An expert on Arabic literature, Dr. Scheindlin is the author of a reference book for students of Arabic, entitled 201 Arabic Verbs.
His thesis, a study of a Medieval Arab poet from Spain, was published as a book in 1975. He has also published translations of literature, including: a Yiddish novella by Mendele Mocher Seforim; a book on secular Hebrew poetry in Islamic Spain, entitled Wine, Women, and Death: Medieval Hebrew Poems on the Good Life (1986); and a companion volume on religious poetry, entitled The Gazelle: Medieval Hebrew Poems on God, Israel, and the Soul (1991).
He also translated Ismar Elbogen's history of Jewish liturgy (1993). Other books include: The Book of Job (W.W. Norton, 1998) and A Short History of the Jewish People (Macmillan, 1998). He has written many articles in Spanish and English, and is also fluent in Hebrew and Arabic. Dr. Scheindlin was co-editor of a volume of the Cambridge History of Arabic Literature, entitled The Literature of Al-Andalus (2000).
Alexander Kronemer, Executive Producer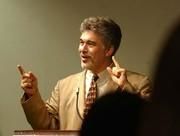 Alexander Kronemer is the co-founder of Unity Productions Foundation and Executive Producer for Cities of Light. He is a writer, lecturer, and documentary producer focusing on religious diversity, Islam, and cross-cultural understanding. He has a Master's Degree in Theological Studies from Harvard University, where his research concentrated on the philosophy of religion and comparative religion. In 1996, he was awarded a Joseph J. Malone Fellowship for Middle East and Islamic Studies, which funded him for a study tour of Saudi Arabia and Bahrain.
Kronemer has published essays in numerous newspapers and journals, including The Southern Quarterly, Christian Science Monitor, Los Angeles Times, San Jose Mercury News, Beliefnet.com, and The Washington Post. His articles have been included in several book anthologies, including the September 11 memorial book, Up From the Ashes (2001) and Wilber Prize winner, Taking Back Islam: American Muslims Reclaim Their Faith (2002).
His work has been supported by numerous grants, including the World Economic Forum, U.S. Institute of Peace, National Endowment for the Humanities, Packard Foundation, Corporation for Public Broadcasting, Montgomery County Commission on the Humanities, and a Halberstam Writing Fellowship.
As a lecturer, he has delivered talks on religious diversity and Islam for the U.S. Department of Justice, U.S. Department of State, FBI, World Affairs Council and National Council on U.S.-Arab Relations. He has also spoken at many universities, including the University of Pennsylvania, Harvard, Cornell, Yale, Princeton, and Penn State, and for numerous private corporations, including Nike, Aetna, and Walt Disney World.
He has appeared as a CNN commentator on several occasions, such as during CNN's historic live coverage of the Hajj in 1998, which was broadcast to 400 million viewers. He has also participated in many radio interviews, such as on NPR and the Voice of America.
In 2000, Kronemer served a one-year appointment at the Bureau of Human Rights in the U.S. Department of State, focusing on the Middle East and Islam. During that year, Kronemer also served as a delegate to the United Nations Human Rights Commission in Geneva, Switzerland.
He is the co-founder of Unity Productions Foundation, a non-profit corporation whose mission is to help bring peace through the media by creating better understanding of Islam and the world's other faiths and spiritual traditions. He was co-creator and co-producer of the popular PBS documentary, Muhammad: Legacy of a Prophet.
The film aired as a national broadcast on PBS and as subsequent international broadcasts on National Geographical International. It received a Cine Special Jury Award for Best Professional Documentary in the category of People and Places. With Unity Productions, Kronemer continues to produce documentaries for PBS and other broadcasters in the U.S. and abroad.
Michael Wolfe, Executive Producer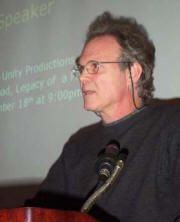 Michael Wolfe is the co-founder of Unity Productions Foundation and Executive Producer for Cities of Light. He is an author of books of poetry, fiction, travel, and history.
Wolfe's writing has appeared in many magazines and has been recognized by the Academy of American Poets, National Endowment for the Arts, California Arts Commission, and American Travel Writers Association. He has read and lectured at Harvard, Georgetown, Stanford, SUNY Buffalo, Princeton, and many other universities. He has taught Writing and English at Phillips Exeter and Phillips Andover Academies, the California State Summer School for the Arts, and at the University of California, Santa Cruz. He holds a degree in Classics from Wesleyan University. For many years, he was the publisher of Tombouctou Books, Bolinas, CA.
Wolfe was a MacDowell Colony resident in poetry in 1968. He received an Amy Lowell Traveling Poets Scholarship in 1970, which was renewed for two more years. During this time, he traveled and wrote in North and West Africa. His first books of poetry (World Your Own, Threshold), fiction, (Invisible Weapons, Creative Arts Publishing), and travel (In Morocco, Sombre Reptiles) derive from this period. In the 1980s, he returned to North Africa several more times. In 1990, he performed the pilgrimage to Mecca.
For 15 years, Wolfe was sole publisher of Tombouctou Books, a small press enterprise located in Bolinas, CA, that published works of poetry and avant garde prose. These include: The Basketball Diaries by Jim Carroll; two books of fiction by the Moroccan storyteller Mohammed Mrabet; and American fiction by Douglas Woolf, Lucia Berlin, Bobbie Louise Hawkins, Steve Emerson, and Paul Bowles's final collection of short stories, Unwelcome Words.
Wolfe's first works on Islam were a pair of books from Grove Press on the pilgrimage to Mecca: The Hadj (1993), a first-person travel account; and One Thousand Roads to Mecca (1997), an anthology of 10 centuries of travelers writing about the Muslim pilgrimage to Mecca.
Shortly after September 11, 2001, he edited a collection of essays by American Muslims called Taking Back Islam: American Muslims Reclaim Their Faith (Rodale Press, 2002). Taking Back Islam won the 2003 annual Wilbur Award for "Best Book of the year on a Religious Theme." He is currently working on a novel and translating a group of epitaphs from the Greek Anthology. He recently completed a fourth volume of poetry, entitled Digging Up Russia.
In April 1997, Wolfe hosted a televised account of the Hajj from Mecca for Ted Koppel's Nightline on ABC. The program was nominated for Peabody, Emmy, George Polk, and National Press Club Awards. It won the annual Media Award from the Muslim Public Affairs Council. In February 2003, Wolfe worked with CNN-International television news reporter Zain Verjee to produce a new half-hour documentary on the Hajj.
Wolfe has been featured on hundreds of regional and national radio talk shows. He writes an occasional column for Beliefnet, a web journal of the world's religions.
In 1999, Wolfe helped found an educational media foundation focused on promoting peace through the media, Unity Productions Foundation. In 2002, UPF produced its first full-length film, Muhammad: Legacy of a Prophet, a two-hour television documentary on the life and times of the Prophet Muhammad. Wolfe co-created, co-produced, and co-executive edited the film. It aired as a national broadcast on PBS and as subsequent international broadcasts on National Geographical International. The film received a Cine Special Jury Award for Best Professional Documentary in its category of People and Places. With Unity Productions, Wolfe continues to produce documentaries for PBS and other broadcasters in the U.S. and abroad.