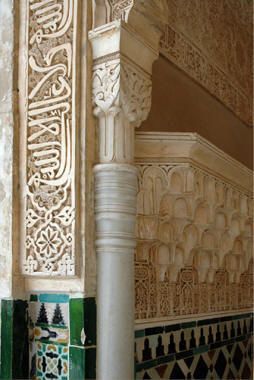 To carve means to cut away a solid material with a sharp tool to create a design. Carved designs can be nearly flat or deeply three-dimensional. They can depict geometric designs, plants, animals and people.
Andalusian artists and artisans used many different forms and materials for carving. Among the most famous Andalusian work are carved and molded plasterwork that made solid walls and domes into surfaces like lace. The illustration shows molded and carved plaster from the Alhambra, built under the Nasrid rulers of Granada in the 14th century CE. Solid walls and domes seem to float with delicate, deeply carved plaster designs. Wall surfaces come alive with painted geometric designs.
Carved stone columns like the ruins of the Umayyad palace Madinat al-Zahra at Córdoba show a mixture of styles from ancient and classical times, with leaves and flowers, scrolls, braids, and arabesques that are typical of the light and abstract designs of Islamic Spain.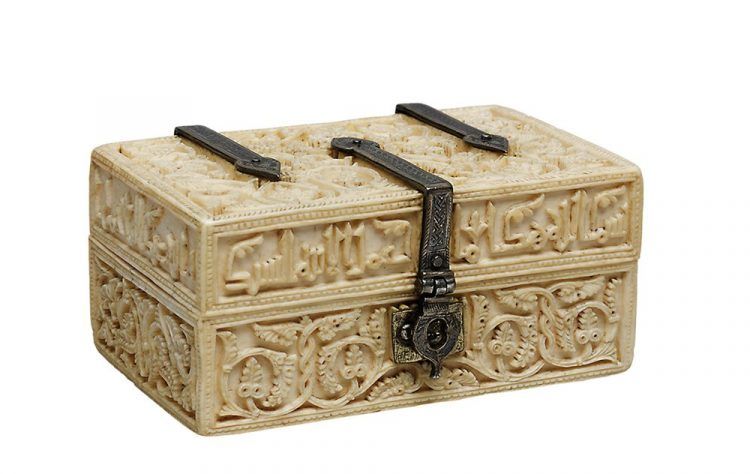 Ivory boxes made from elephant tusks imported from Africa were carved as deeply and delicately as plastic is molded today. Boxes and small chests like this one from Madinat al-Zahra in the year 966 CE have delicate patterns of leaves, vines, and flowers, with bands of calligraphy in Arabic around the rim of the lid.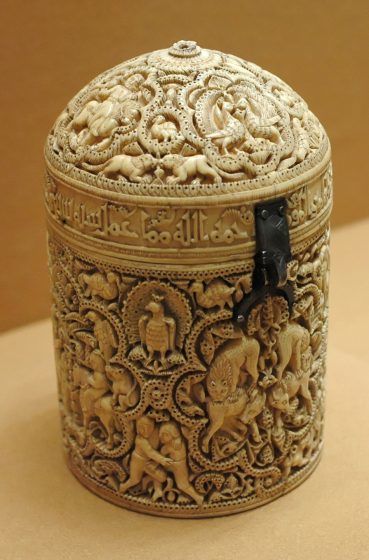 These chests and boxes have carved inscriptions that blessed their owners or praise their own beauty. These special boxes were made for members of the ruling groups, for whom they might have held gold coins, jewels, perfumes or medicines, like the Metropolitan Museum of Art's pyxis (cylindrical, domed container).
Wood carving on furniture, boxes, buildings and bookshelves or bookstands was made from oak and other hardwood trees that grew in Spain. Leafy designs, geometric patterns and animal motifs were carved into the wood with sharp steel tools that were also manufactured at places like Toledo, where these woodcarvings were found.